by theseseans (NYC)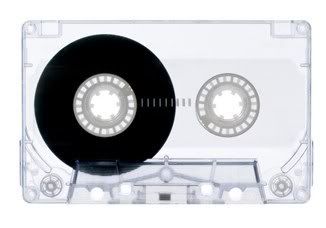 Ever hear of a Muxtape? Ever see this icon float past your eyes during your internet wanderings? The completely harmless website muxtape.com is the latest victim of the RIAA. The Muxtape site allows users to create online mixtapes from the music they personally own; others can then go to their site and stream the tracks. The site is now "unavailable for a brief period while we sort out a problem with the RIAA."

An RIAA spokesman says:

Muxtape was hosting copies of copyrighted sound recordings without authorization from the copyright owners. Making these recordings available for streaming playback also requires authorization from the copyright owners. Muxtape has not obtained authorization from our member companies to host or stream copies of their sound recordings.
I
have
to cry bullshit here. This (it seems to me) is yet another clear case of the RIAA being behind the times. Muxtape wasn't making these songs available for download, they were simply making more music available for potential consumers to sample.
People are going to sample things if given the chance, and in this day (hell for the past few YEARS) it has become increasingly easy to sample, or steal, music. Punishing a website that specifically DOES NOT allow users to download seems a lot like beating baby seals for fun. This restriction is not going to slow the traffic of illegal downloading whatsoever, it will only limit exposure to new music.

According to Rolling Stone's story on this Muxtape has a pretty good legal case on their side, with prior success stories. The downside however is that fighting the RIAA in court will take roughly 2-3 Million Dollars. You know, the kinda change you keep kicking around for such emergencies as the RIAA coming to fuck your life in the ass.

I expect to see a lot of good music come out in the future, because we are clearly heading toward the death of the rock star. The system is eating itself, and no musician in their right mind should be starting a band with delusions of grandeur. Hopefully all of this will end up with more people playing music because it's what they love to do, love to create, and love to share.

Hopefully we here at crustcake won't get too popular, for as Rolling Stone's article states, "it's a measure of success to be sued by the RIAA. Once you're popular enough, that's when they come calling."